Cranage Haulage – About us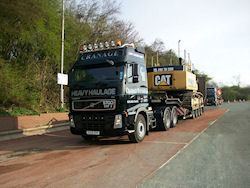 Established in 2004 Cranage Haulage has been providing haulage services to customers big and small. Even though the company has only been in operating a few years, the founders have over 30years of working experience in the industry. We are able to easily deliver and transport loads to any location within the UK.
We believe personal and professional customer service to be of our first priority and our scores of happy customers will be able to testify to the truth of that. Cranage Haulage is a family run business and we feel this gives us the edge above the competition. When you enter into a business arrangement with us you can be assured of quick, efficient service provided by a competent team of workmen.
The team at Cranage Haulage will always be ready to respond to any queries you may have and will be pleased to provide practical assistance in any way you need. As a hard-working group of people we will be committed to ensuring the entire project runs smoothly and on time. Your entire experience with us will be hallmarked with clear and constant communication, so you know where your cargo is 24 hours a day, seven days a week.