Welcome to Cranage Haulage Ltd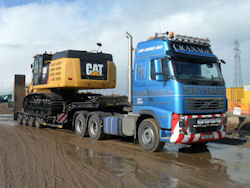 The Experts in Heavy Haulage
Cranage are specialists in heavy haulage. We are a family run business and with over thirty years of working experience in the heavy haulage industry, transporting Heavy Construction Equipment, Engineering Plant, Airport Ground Support Equipment and Rail Equipment throughout the UK and Ireland. Between us, our knowledge and understanding of the challenges and requirements of the job are extensive. Our team have the skill and ability to plan for all the logistical and transport details of any heavy haulage project. Set up in 2004, our company has been supplying practical transport solutions to many satisfied customers. Over the years, Cranage have built up a steady, trustworthy reputation of absolute reliability and "Can Do" attitude towards customer requirements.
One of the biggest assets of Cranage is our modern fleet of heavy haulage vehicles, which is the key to our success. All our equipment is of the best available on today's market and all vehicles are fully kitted out to meet and exceed the legal requirements for the movement of abnormal loads. We feel the safety of your equipment and our drivers to be of paramount importance.
The Solution to Moving Abnormal Loads
Transportation of abnormal loads presents no problem to Cranage. Our fleet of heavy haulage vehicles enables us to transport just about anything to anywhere in the UK and Ireland. As we pride ourselves in being specialists of heavy haulage throughout the UK we can supply appropriate route surveys and movement orders for every project. The entire journey from the start to the final destination is guaranteed to be smooth and stress free, ensuring your load is delivered safely. Our team will keep you informed of every development so you are constantly kept in the loop.
Specialists in Heavy Haulage throughout the UK
Cranage are committed to providing reliable, "on-time delivery" and transportation of equipment to any location within the UK and Ireland. We have also built valuable working relationships with corporate and commercial customers resulting in a mutually beneficial professional portfolio.
Superior customer service, professional and punctual staff as well as a high specification fleet of vehicles all combined to make Cranage the ideal transportation provider for you.
We are happy to offer practical advice and assistance in any way we can. If you have any queries or would like to discuss a project with a member of our team please feel free to call us.
Find out more now
Our team will be delighted to answer your questions. Please contact us by phone, email or online.